And there I was in Tibet's capital, Lhasa, taking in the scenery and smiling at the curious onlookers who were staring at me in bewilderment, when I suddenly felt as if my braids were caught in something.
Puzzled, I turned around to find three elderly Tibetan women holding the other end of my plaits, gasping in amazement. Am I really that interesting? Apparently so.
In Tibet, it is rare for many of the locals to see a foreigner. But the only thing rarer than a white person in Tibet is a black one.
Spectator vs Spectacle
As a dark-skinned woman with long black and gold braids, I was both a spectator and a spectacle. I guess I never knew what it was really like to be a tourist attraction until I landed in the country.
Tibet is a whole other world. It is a mixture of the old and the new, with tall modern buildings and shopping malls standing alongside ancient shops and traditional red and white buildings. And it is in this world I landed and I have to say, although I'd read some blogs that said black people were something of a novelty in China, it is one of those situations where you really have to see it to believe it.
Mostly it left me amused, although at times it could get quite uncomfortable.
In May 2016, I joined 11 other Westerners on a 6 day group tour of Tibet. The experiences were quite interesting to say the least.
On the first day after I had been introduced to my guide and settled into my hotel, I decided to take a walk to the local supermarket.
Initially, I wondered if I was hallucinating when almost every head turned to look at me. Reactions ranged from smiling and waving, to gasps of bewilderment and cries of 'wow'.
Wow indeed.
I also inadvertently managed to gather my own paparazzi crew with lots of camera clicks and mobile phones going off as I walked by.
Right now, I'm guessing I must be on hundreds of instagram accounts and mantelpieces in China by now.
And there I was hunting for snacks in the supermarket when a lady came and stood beside me. I moved aside, initially thinking I was in her way and she moved closer still, while her partner took a picture of us.
No sooner had she done that, then a man approached asking for a picture. Then another lady. And another…
Bemused, bewildered and incredulous, I truly felt like an alien among men. Had I just landed from a spaceship on some faraway planet?
But that was just the beginning.
Are you Jokhang?
Day two in Tibet. On this day, our group went on a visit to the Jokhang temple – one of the busiest and most popular in Lhasa. As a group of 12 or so foreigners, we certainly attracted our fair share of attention.
At least it wasn't just me. Right?
I eventually lost count of the number of times a local person would point specifically at me and ask our guide, "Where is she from?" "Is she from Africa?".
In the Jokhang, hundreds of locals gathered in daily devotion and worship. Many took a temporary break in their routine to look at me, gasp, coil away in horror or to simply smile.
One of the other tourists in our group joked that I was the new Buddha, while another urged me to try and get permission to enter an interesting section of the temple that only locals were allowed in. Her reasoning was that the monks may just allow us in if I was the one to ask, because I was the "prize".
One man wanted to know where I was from, while I was touring with the group. 'England', my guide told him. 'But there are no black people in England', said the man innocently, as my guide translated the conversation to me. After the man disappeared, my guide then requested a picture with me, along with the driver who had been taking us from place to place in Tibet. Yup, just another day as a black girl in China.
Throughout the trip, I've been photographed, gazed at, gasped at, complimented, touched and smiled at. I've brought restaurants to a standstill, had random handshakes and attracted the curiosity of monks.
In some cases, it led to a little bit of an exchange where people would request pictures of me and I would request one in return. Often, it led to questions about my nationality and welcoming smiles.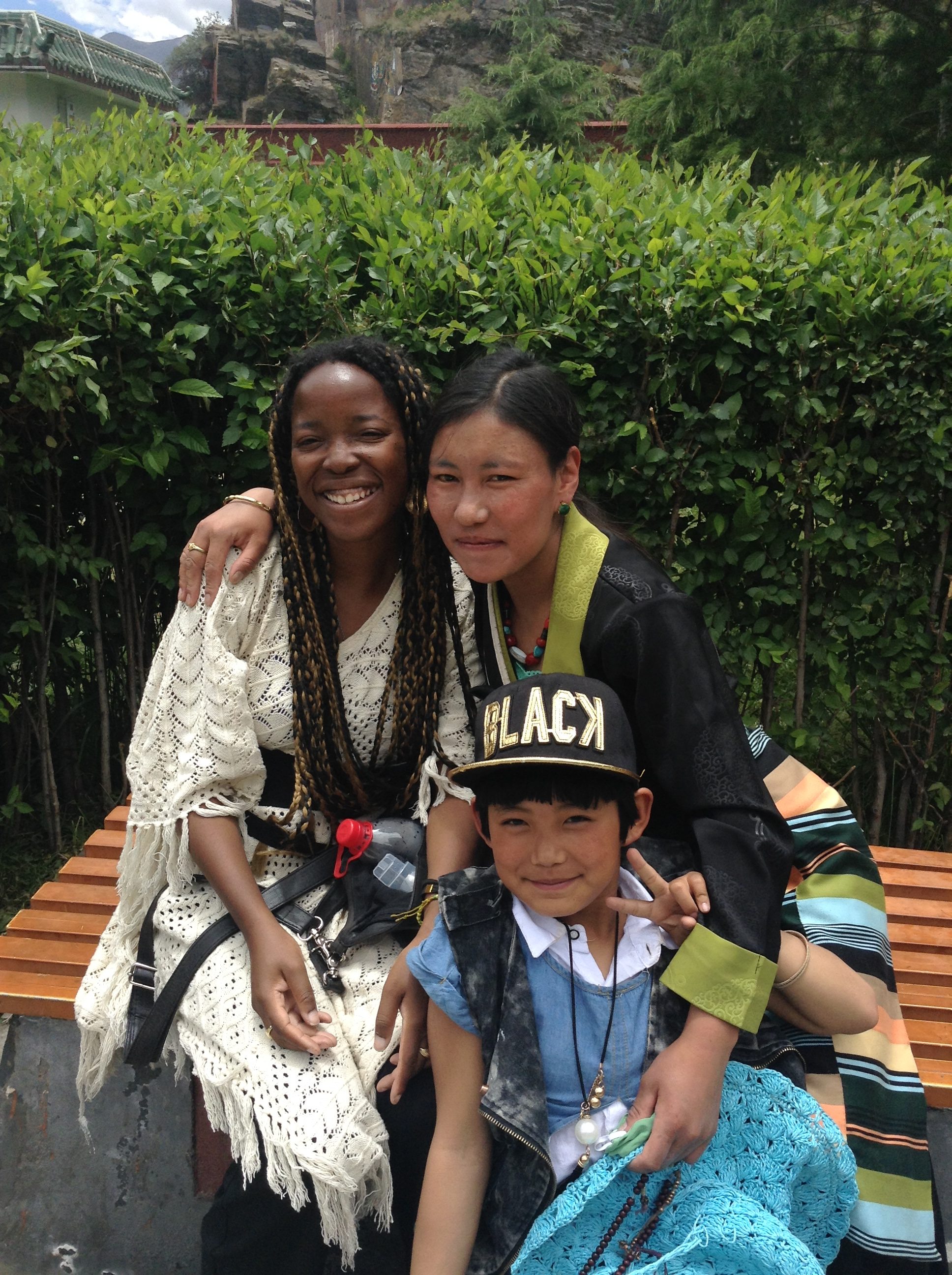 Most of the time, it never struck me as hostility, just good old fashioned curiosity.
On day three, our group went to witness the famous debate of the monks at Sera Monastery and while we were stood outside watching, I got talking to an elderly Caucasian man called John who struck up a friendly conversation with me about why I was in Tibet. He told me that although he still gets stares and photo requests, he is no longer quite as much as a novelty. He also said that 20 years ago when he first travelled to China, it was as rare for a white person to be in China as it is for a black person. Back then he said, many heads turned for anyone who was not from Asia.
As if on cue, I looked up to observe a Tibetan man filming the entire conversation and taking photos. We were standing at one of the most famous religious debates in the world and yet I had somehow managed to steal the show.
From Tibet to mainland China
On the final day of my tour, which regrettably ended far too soon, I got a 48 hour train from Lhasa to Chengdu in mainland China.
I sat right at the front to avoid the stares. No such luck. An elderly local stood in front of me. He came. He saw. He photographed. I gestured politely to decline a photo, but to no avail. So I swivelled around in my seat to avoid the picture. He then walked away. Ahh, thank goodness. By the time I looked up again, he was back. He showed me a random picture of a place on his phone and then pointed to himself and then at the phone, before pointing to me, all the while speaking in Chinese.
I stared back at him with the blank look of someone who does not speak Chinese. He then tried to take another picture. I swivelled around. Then he disappeared. For good, I hoped. Alas, my hopes were dashed. He promptly returned with 7 other random men, including a monk that had been sitting beside me the whole time. All tried to take pictures.
So I took out my ipad and read my kindle, attempting to ignore them. At this point, the original ringleader then sat next to me, held my ipad with me and tried to read what I was reading, despite the fact it was in a language he clearly could not understand.
I heard one of the other men say "kindle" in an attempt to explain to the man what it was. They all seemed very interested in what I could possibly be doing on my kindle.
Suddenly I began to feel like a zoo exhibit. So I got up, nodded at the men and walked away to the back of the waiting room. Big mistake. Everybody turned and stared to see the show. That awkward moment when you realise you're the only foreigner in a room full of at least 200 very curious people. Damn.
My experiences of being an alien abroad were not just limited to Tibet however.
In China I faced similar reactions in Chengdu, land of the pandas, Guilin, with its beautiful Karst mountains and Shanghai, the original sin city.
Wherever I went, a trail of gasps, photo clicks, and bewildered stares would follow me. In Guilin, I took a group tour of the Karst mountains by boat. Part of the tour involved visiting the ancient village of Longsheng, where many of the Chinese ethnic minorities lived.
The Yao, Zhuang and Miao were the main groups that lived there. After performing traditional folk songs and then a square dance, which our tour group were encouraged to join, some of the members of the group then posed to take a photo with another minority – me. My hair was also source of fascination, much to the amusement of the other tourists.
The fascination with a foreign face
Was I affronted? Offended? Angry? Not at all. Interacting with friendly people from all over the world is for me, what travel is all about.
Many other travellers, particularly those with blonde hair faced similar reactions, and yet they too were bemused by my sudden, unexpected rise to fame.
Even sitting in a restaurant would turn into a circus with waitresses and sometimes even restaurant owners queuing to get in on the action with a souvenir photo of their own.
Then there was the selfie craze. You know, the one where someone just happens to take a selfie, with me conveniently in the background. So as not to ruin their selfie, I'd move. They would move. I would move again to get out of range. They would promptly move me back into range and we'd end up doing this little dance with both of us trying to outwit each other in this war of attrition.
China was rapidly becoming one of the most intense places I've ever been. And yet I fell in love with it. The food, the landscape and the smiles of the people there.
Yes, there were days when the thug in me fantasised about smashing someone's camera or making a V-sign when yet another unwanted picture was taken, but it never seemed to come from a bad place.
Later, I was to travel to South Korea and Japan. In these countries, it was almost like being at home. Almost. For the most part, people didn't stare or take as many photos, although I did get a fair few people in Korea touching my hair, but hell, by this time I was used to it.
I then travelled to Myanmar, a country bordering Thailand to volunteer in a Monastry. The first thing I noticed when I landed in the airport is that I was once again a novelty.
A few days after, I went to visit a remote village in the north of the country where I was surrounded by at least 30 people,  at any one time. People were overwhelmingly friendly though and welcomed me into their homes and of course took many, many pictures.
Yes indeed, my trip to China and indeed Asia, was certainly a memorable one and it gave me my first taste of being both the tourist and tourist attraction.