PART ONE
South Korea is not the tropical paradise of Thailand or the mayhem and madness of China. Rather, it is the quaint, quiet, little beauty in the heart of the Orient.
I had no idea what to expect. I guess I was after a taste of the unusual to quench the thirst of curiosity as I emerged from Seoul Incheon Airport hot, confused and flustered.
Although I was a little bit relieved to leave the persistent and curious gaze of China, I never knew what adventures were to lay ahead of me.
After asking the information desk how to get to my hostel, I finally found myself seated on a very comfortable and air-conditioned bus to my destination.
But the struggle wasn't over yet.
The hostel was a good ten minutes walk from the place the bus dropped me off and trying to decipher the hostels directions was like trying to decode Egyptian hieroglyphics.
Luckily I was able to find someone to come to my rescue and they pointed me in the right direction.
I finally arrived at the Seoul Insiders Hostel run by a pair of friendly South Korean backpackers.
A Finnish expat called Olivia kindly showed me the ropes in the city and took me to the most popular hangout spots in that part of Seoul.
We then sat in a local restaurant where I tried Kimchi (spicy, fermented cabbage) and Bibimbap (mixed rice and meat topped with egg).
I hungrily devoured everything but the Kimchi – which I just couldn't get my head around at all.
She then gave me the lowdown on where I could find the best restaurants, bars and shops.
In my confused state, I promptly forgot all of it within seconds of her telling me and was too polite to ask her to repeat herself.
Seoul is an eclectic city, with plenty of shopping malls, temples, palaces, and parks.
A city of Seoul
In Seoul, you can do a hop on, hop off tour bus which takes you to some of the main attractions.
So after heading back to the hostel and figuring out a map of the city, I visited the first stop on the tour bus route, which was the Gyeongbokgung palace.
Built in 1395, it was the main royal residence of the Joseon dynasty and continued to serve as such until it was burned down in the Imjin War between 1592 and 1598.
The palace buildings were later restored during the reign of King Gojon in the 18th century.
Today the palaces are adorned with intricate drawings, artwork, mandalas and Buddhas that stand as a testament to the craftsmanship and commitment of those who dedicated their lives to it.
Many of the buildings that comprise the palace are fairly empty, aside from a small shrine or in some cases, large dragon sculptures that decorated the ceilings.
The palace was surrounded by large open spaces, trees and a big pond. In the afternoons, they often offer a free English-speaking tour of the residence, which was quite a fun way to learn about its history.
It is also connected with the National Folk Museum of Korea, which housed some very interesting sculptures.
Next I visited the North Seoul Tower, which you can access after making your way up Mt. Namsan (a fairly short mountain) and getting the cable car up.
Around the tower were a fair few places where you could purchase padlocks, write a message on them and hang them up on message boards that were on display.
I'd never quite seen anything like it before or since and thought it was a really cool idea.
I also visited Buckchon Hanok Village shortly before it started raining cats and dogs. I ended up taking shelter in a vintage pop shop owned by a friendly Korean lady. Despite not knowing each other's language, she proceeded to make conversation with me in Korean to which I would politely nod and smile. In my ignorance I replied in English. She politely nodded and smiled.
You know, it is those strange and pleasant little encounters that really put the fun into travelling.
The Winter Sonata
The very next day I stepped into the magical scenery of the Winter Sonata. Winter Sonata is a Korean television drama series that helped to put South Korea on the map throughout Asia and the rest of the world.
It is about the talented son of a musician who searches for information about his past in a rural city. The drama was filmed in Namiseom Island and Seoul.
Some of the most jaw-dropping, natural scenery I have ever seen resides at Namiseom Island. The cheapest way to travel there is by bus and ferry, and it takes around 1 hour and 30 minutes to get there, depending on traffic. The journey set me back KRW 15,000, which is equivalent to £10.
After paying KRW 10,000 (£6) to get into the island, there were a number of different options available. I could either go ziplining, which looked like GREAT fun. Or I could rent a bicycle and cycle around. Feeling too lazy to do either, I opted for the hop on, hop off tour cart and mini train around the small island.
It is also possible to walk around, which would take approximately 30 minutes or so, depending on how often you stopped to soak in the magnificent scenery.
On the island, I was surrounded by trees, mountains and greenery as far as the eye can see, there were also cute little straw huts with sculptures and figurines inside them.
I chose to stroll across some of the mini bridges, wonder into the forest and take full advantage of the range of cuisines and restaurants that were available.
On that long, lazy afternoon, I walked across a wooden walkway to take in the views of the lake and sit by the mountains and ponder for a while. When I finally came back to reality, I treated myself to a walk through some of the ancient temple structures and a nearby fountain.
I also mused at some of the very graphic mother and baby statues in the park and went to say hello to some of the large Ostriches that were walking around, going about their daily business.
Fascinated by the straw huts, I ventured once again inside them before resting my eyes upon some of the statues and artwork that was dotted around.
With a sad and heavy heart, I finally had to say goodbye to Namiseom Island, which had given me so much joy on that hot summer's day. It also provided me with so many beautiful memories.
Samgyetang – A Korean delicacy
One of the greatest joys of visiting South Korea was sampling the food that was available. You see, South Korea has its very own cuisine, quite unique from other Asian countries.
The very next day, I went out with a group of people from the hostel to enjoy a meal of Samgyetang – South Korea's famous chicken and ginseng soup. The flavoursome dish was made from a whole small chicken, filled with garlic, rice and scallion. I can honestly say it was the first time in my life that I have devoured an entire (albeit miniature) chicken in one sittin'.
On July 2nd, it was finally time to bid farewell to Seoul, as I made my way by bus up to Busan.
Bussin' it to Busan
Busan doesn't have the charm or splendor of Seoul and the journey there is very much an industrial one, with lots of buildings, new developments and high-rises competing for space on the urban landscape.
On that rainy Sunday afternoon, I finally made my way through the hustle and bustle of Busan, armed with my monster of a suitcase and backpack, and stumbled through Chinatown to my hostel.
Soaked and exhausted, I was greeted by the friendly host Jiyeon, who was incredibly helpful when it came to telling me about all the best hotspots and encouraging me to visit Japan while I had the chance to.
Here's the thing. Japan wasn't originally on my list – due to financial reasons – but it is a place I've always wanted to visit.
Thanks to Jiyeon's encouragement and the fact that she very kindly allowed me to dump my mammoth suitcase into a cupboard for 2 weeks on the proviso that I return to the hostel, I did end up making my foray into Japan. But more about that in another blog.
The location of the hostel wasn't the finest of places in all honesty, and it felt a little sketchy at night when walking alone. But the hostel was close to all the major transport links, and was a great place to meet travellers from all over the globe.
City sights
On the very next day, I caught the subway and went sightseeing around the city. Actually, I was on a mission to find the Trickeye Museum in Busan, which was incredibly difficult to do. Once I found it, it was a major disappointment and I was in and out within 5 minutes flat.
It was the kind of museum where you just stand around taking photos with a friend next to some of the exhibits, which you can find in almost any other 3D art museum across the world. And if you don't have a partner to go with….well, you just stand around, wondering what the hell you are doing there. At least that's what I did.
However, what I did love was the small group of friendly locals that clubbed together to help me find the museum in the first place. One was a man from India, who kindly offered to accompany me to the museum, which I politely declined.
I also went to visit the world-famous Jalgachi seafood market nearby, just so I didn't feel the entire journey was a total waste.
I never expected to be so fascinated by the weird and wonderful variety of aquatic life that was there, and viewed everything from sea-worms, octopus, jellyfish, starfish and other strange creatures that my poor brain could not identify.
Afterwards, I spent the day gliding in and out of various fish and fruit markets, viewing the prices with a mix of fascination and horror. Want to know how much a small bag of 8 tangerines will cost you in South Korea? KRW 16,000, which at the time was equivalent to £11. You've been warned.
You see, fruit is a little pricey in South Korea, depending on when you buy it, and this is because much of it is exported.
It wasn't too much of a problem for me though. I simply gorged myself on chicken dishes, Bibimbap and Bulgogi (marinated beef barbecue) instead.
Underneath Korea
The underground stations in South Korea filled me with a mix of wonder and curiosity. It was where I brought my first pair of short pants in Asia, which was probably one of the most important fashion accessories I ever invested in while travelling. These mini black flare trousers kept me slightly cooler and chic in the sweltering weather whenever it was necessary to wear clothing that covered the knees.
The underground stations are filled to the brim with endless markets, boutique fashion shops, eateries and accessory shops that you can peruse at your leisure while making your way from one platform to another.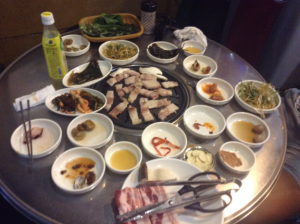 On July 5th, I finally got my first (and delicious) taste of a South Korean barbecue at Busan's famous night market. In South Korea, the barbecue is something which you can only really enjoy with another person, if you don't want to end up paying double the price. I visited the night market with a friendly Taiwanese guy called Aaron Chen. After sampling some of the delicious fried snacks on offer, we finally found our way to a restaurant where we enjoyed 3 different types of barbecued meat and an entire table full of various vegetables, sumptuous rice and also Kimchi, which I studiously avoided.
Gamcheon Culture Village
The very next day, Aaron and I caught the bus to the Gamcheon Culture Village in Busan, where I climbed my way up various steps to the colourful tourist attraction as the sun beat down on my back.
Oh but it was worth it though, and the view from the top was absolutely immense. There were also various little displays and exhibitions, including a short video documentary about the multi-cultural village, which has residents from all over South Korea, with a few from Europe and Africa.
After spending a beautiful afternoon walking around, taking in the waves of blue, yellow and orange properties that lined the landscape, we finally made our way down and stopped off for some ice cream and temple hopping along the way.
Busan also has it's fair share of city beaches, which I took full advantage of while I was in the city.
I caught the train to Haeundae beach and the nearby Sea Life aquarium. After spending the latter half of the afternoon walking around the aquarium, I also paid a visit to the beach and sat there and chilled out for a bit, before forcing myself to get up and make my way back to the hostel.
The very next day, I took a flight from Busan to Osaka, which lasted just over an hour as I temporarily bid farewell to South Korea.