This blog is designed to give first time backpacking advice to travellers who have never been to Nepal before.
The first thing that hits you when you arrive in Nepal is the sounds and the colour. When I first arrived in the country, everything seemed to hit me all at once. I had just stepped off the plane from Italy and I was disorientated, tired and confused. 
It was the first day of a month-long hiatus in Nepal which would take me through tropical jungles, Buddhist temples, ancient cities and expansive lakes.
Even then I did not experience the full beauty that the country had to offer.
But I learned enough to ensure that my trip was a powerful and memorable one. Now you'll get a chance to discover Nepal and learn from my experience with my first time backpacking advice.
I want your journey to be magical. I want you to visit Nepal and get the best experience you can possibly get.
There is no reason why your first trip to Nepal shouldn't be an incredible one. Well, I'm here to make sure that it is.
By the way, if you want more detailed information about travelling solo, you can check out my blog: 'First Time Backpacking Advice For The Brave Explorer'.
So without further ado, let's learn how to make the most of this enchanting country.
Tourist Visas: The Gateway To Nepal
Ok, so let's get the nitty gritty out of the way first. If you come from a Western country such as the UK or US, then you can get a visa pretty easily upon arrival at Nepal.
These visas are available from at Kathmandu's Tribhuvan International airport as well as all land border crossings.
You can get visas lasting 15 days, 30 days or 90 days. Typically you will pay £19 ($25) for a 15 day visa, or £30 ($40) for a 30 day visa, or £76 ($100) for a 90 day visa.
You'll need to ensure you have a passport photo with you and at least six months left on your passport.
The process of getting a visa in Nepal upon arrival is easy enough. However if you are worried – or you are entering the country via one of the smaller or lesser known airports, then you can easily apply online for a visa from the Nepalese Immigration Authorities.
Remember to do this at least 15 days before your trip!
You can also extend your visa very easily by filling in the visa extension form on the Nepal Immigration website. Be sure to print the confirmation when you do that.
Take the confirmation, a passport photo, and your passport with you to the Immigration office (which can be found in Pokhara and Kathmandu).
Please note that visa extensions cost a minimum $30 (payable in rupees only) for a 15-day extension, plus $2 per day after that. To extend for 30 days is $50 and to extend a multiple-entry visa add on $20.
You may come across other travellers who tempt you to overstay your visa because the fine is only $3 (£2) per day, plus a $2 (£1.50) per day extension fee (so $5 or – £3.50 – altogether).
Just be aware that doing this may cause problems later on down the line (for example if you want to get back into Nepal).
If you're feeling slightly more adventurous, and you are a highly experienced rider, then a motorcycle can give you a much greater level of freedom and is perfect for exploring Nepal's mountain roads. Scooters will usually set you back around $4.50-$5 (500 rupees) a day.
Air travel


Taking an airplane is the fastest way to get around Nepal. It's also the most expensive at $100 (£76). Just be aware that most flights are weather-dependent so they can often be cancelled, rearranged or redirected at the last minute.
Bus travel
I travelled mainly by bus. Tourist buses come with air conditioning - but I always ended up on the buses where the air conditioning would come and go. But to be honest, it was so hot in Nepal that it was still better than nothing.
Bear in mind that the roads are bumpy, so this may not be ideal for those with travel sickness. The journey from Kathmandu to Pokhara can take anywhere from 6-11 hours. A local bus would set you back $5 while a 'luxury' tourist bus can cost up to $30.
Private Cars
A private car is often much faster than a bus and more comfortable and convenient. This will usually cost around $60 for fuel and a driver. Drivers will often charge you for a return fare even if you are only going one way - so be sure to negotiate.
Taxis and Rickshaws
Rickshaws are better for shorter journeys. Prepare for a jumpy, bumpy ride as you meander your way throughout Nepal.
These are usually only found in bigger cities such as Kathmandu and Terai. Most taxis have meters - but in my experience, you will need to negotiate the price to get the lowest rates.
Motorcycles
If you're feeling slightly more adventurous, and you are a highly experienced rider, then a motorcycle can give you a much greater level of freedom and is perfect for exploring Nepal's mountain roads. Scooters will usually set you back around $4.50-$5 (500 rupees) a day.
Best Places to See In Nepal
OK, so now for the fun stuff. Where should you go in Nepal? Frankly, I'm tempted to say: EVERYWHERE, but that's probably not practical for you, so let's start with the top places.
Kathmandu, City of Temples
Kathmandu is a lesson in ancient history. I spent two weeks in the city and I never got bored. It has got some of the coolest restaurants in Nepal and is practically wall to wall with shops selling everything from Buddhist singing bowls to clothes and accessories.
The most exciting way to experience the city is by tuttuk. It will give you a jolt as you gallop through the streets, but you'll miss out on the fun if you don't try it at least once.
Oh and the temples. The sheer number of temples located in Kathmandu and the surrounding valley has earned it the nickname City of Temples.
One of the most famous is Swayambhunath, otherwise known as monkey temple. It sits on top of a hill, and you climb your way up a steep set of stairs as monkeys swing from tree to tree around you.
You'll also find the Bodhnath Stupa, which is one of the largest stupas in the world and a UNESCO World Heritage Site.
Patan
Explore the nearby ancient cities of Patan and Bhaktapur, or experience the temples in Durbur square.
Patan is an ancient fortified city, was founded in 745 AD by Vanraj Chavda, the most prominent king of the Chavda dynasty. It is known for its narrow alleyways, historical temples and historical ruins.
The architecture is stunning and when I went there, I spent the day climbing up the stone steps of some of its buildings and hogging the best views of the city.
Bhaktapur
Bhaktapur is the old capital city of Nepal. It literally translates to Place of Devotees. Also known as Khwopa, it is an ancient Newa city in the east corner of the Kathmandu Valley, Nepal, about 8 miles from the capital city, Kathmandu. It is a cultural gem, rich with a fascinating history and packed with Buddhist temples and monuments.
The Great Lakes of Nepal in Pokhara
My first time backpacking advice to anyone travelling to Nepal is to visit Pokhara. When I travelled to Pokhara, I spent some time gliding across one of the great lakes and visiting the temples perched on or near the lake.
Pokhara is one of the trekking capitals of the world, with many travellers opting to take on some of the world-famous routes on offer such as Mount Everest base camp. Other famous trails include the Annapurna Circuit, Annapurna Base Camp and Langtang Valley, among others.
I have a fear of steep drops and heights, so I opted to visit some of the local parks instead. I also took a boat trip across Lake Phewa and then climbed the stairs to the World Peace Pagoda – a temple on top of a large hill on the other side of the lake.
Everest Base Camp
The mountains that surround Pokhara are among the most beautiful in the world. Of course the mountain that stands out from all of the others is Mount Everest at 8,848 metres.
Hundreds of tourists descend upon Nepal each and every year to tackle Everest Base Camp. Standing at more than 5,000 metres, it certainly packs a punch but you'll be kicking yourself for years to come if you didn't give it a shot.
Taking a group tour is probably the cheapest way to experience Everest.
Annapurna Circuit
The Annapurna Circuit, is a 12 to 21-day route that begins in the lush green foothills of Nepal. This is an extremely popular route among climbers, and most people opt for a two week route.
If you want to save some cash, then a group tour is probably your best option. The views are absolutely stunning and it is a trip that you won't forget in a hurry.
Regardless of the routes and the mountains you choose to climb, be sure to get your permits sorted in advance. Do not underestimate the altitude and give yourself plenty of time to acclimatize. One of the reasons the trekking routes tend to be so long is because you will need to spend more time on the mountain to get used to the high altitude.
It doesn't matter how fit you are – altitude sickness affects everyone, so be sure to stay hydrated and listen to your body.
Chitwan
Chitwan brings you face-to-face with rhinos, tigers, monkeys and elephants. When I went, unfortunately I did not see any tigers but I saw bisons, elephants, and rhinos, as well as the monkeys.
The best way to spot the animals in Chitwan is to take a walking tour. However, bear in mind that the temperatures in Chitwan can soar to more than 40 degrees and although the vegetation in the jungle can provide some relief from the baking sun, walking for a full day in the heat will take it out of you.
Different types of tours are available. You can either opt for the full day walking tour, or you can do what I did and take a boat tour, a 4 hour walking tour and a 4 hour jeep tour.
You can take an 8 hour jeep tour, but this option is the most expensive and it is not as easy to see the animals in the jeep.
I did hear stories from those who have encountered tigers while walking through the jungle, which they were delighted by. I was kind of glad I didn't see a jungle cat during the walking part of the tour, especially as I'd heard that Nepal has the highest rate of tiger attacks in the world! However, I'm kind of bummed that I didn't spot one while I was in the jeep.
But if close encounters is what you're going for – then don't be afraid to knock yourself out!
The above places are just a small snapshot of the kind of things you can get up to in Nepal. Nepal is such a vast and amazing country, that it is impossible to squeeze everything into a single blog. But hopefully that gives you some idea of some of the different options available.
My First Time Backpacking Advice To Finding The Best Restaurants
Nepal is a foodies paradise. You'll find everything here: Tibetan, Chinese, Indian, American and of course, Nepalese cuisine. Food is cheap and a typical meal will not set you back more than $5-$7. There are plenty of restaurants, so choosing between them is an uphill task.
So I've selected 5 of my favourite restaurants below.
OR2K
I gorged myself in the OR2K Restaurant. It has a really relaxed vibe with colourful rugs spread out over the floor, and a mouthwatering menu.
My favourite dishes were momos and dhal bhat (a type of Nepalese curry).
Yak Restaurant
The Yak Restaurant is not a gourmet spot by any stretch of the imagination but it is a pleasant relief from most of the overhyped and overrated tourist traps in Nepal.
It gave me a memorable introduction to Tibetan food before I entered Tibet, and serves a mixture of Nepalese and Tibetan food. I opted for the momos and Tibetan curry.
Wendy Juice Shop
Wendy Juice shop is in Pokhara and an excellent choice if you are vegan or vegetarian. They have got some of the best vegan or vegetarian foods in the city, and their fruit smoothies are to die for! You'll always find a friendly face, a delicious vegan milkshake and a bunch of fresh fruit here.
Potala Tibetan Restaurant
My first time backpacking advice to anyone who sets foot in Pokhara is to drop by the Potala Tibetan Restaurant. It has quite a cosy atmosphere and some of the best homemade food. I opted for the Tibetan bread, noodle soup and curry. Yum!
Friends Cafe
I'd be remiss not to mention the Friends Cafe, a lovely rooftop restaurant in Sauraha, Nepal, not too far from Chitwan National Park.
Choose between a traditional Nepalese curry, or Western-style steaks and fruit salads.
You'll also get a chance to sample some delicious smoothies and ice cream.
Mistakes To Avoid While Travelling In Nepal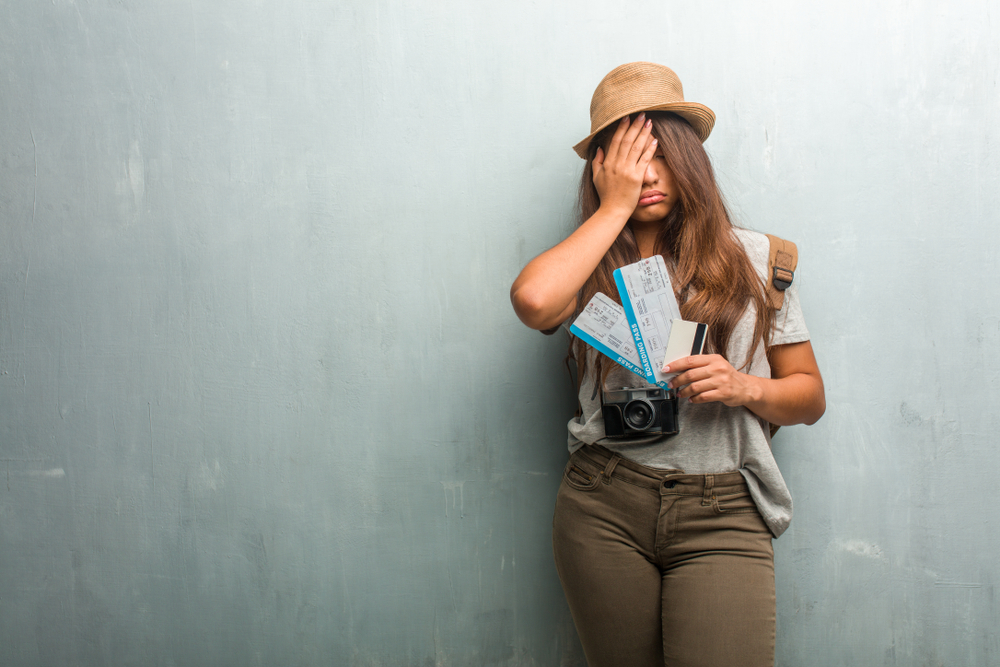 I made many mistakes while travelling which made my tip more expensive and a little more awkward than it could have been. To be honest, if you're travelling for any length of time, this is bound to happen sooner or later, but it doesn't hurt to catch some of them in advance.
Walking Alone Late At Night
Actually, this is a mistake anywhere you go. It seems like common sense safety advice that is pretty obvious. But I mention it here for one reason.
On my first night in Kathmandu, I stayed in a dorm room at the Famous House hostel (a dive if ever I saw one) but I was fortunate enough to get a room to myself – because there were no other backpackers booked into the room on that night.
I got woken up by what sounded like dozens of dogs barking in chorus. After I groggily made my way to the window, I saw that yes, it was in fact, dozens of dogs – my guess was there were up to 40. If I had been out that night (I was planning to walk to a local restaurant but I was ill that night) then I would have stumbled upon dozens of feral street dogs. Strangely enough they are fairly placid during the day, but at night they are a different animal entirely and in some areas of Nepal, they hunt in packs.
You probably won't find them in the main tourist streets but if you get lost and take a wrong turn somewhere, then let's just say encountering human predators will be the last of your worries.
Never Neglect To Negotiate
Always negotiate before climbing into a taxi or rickshaw. Make sure you agree upon the exact price and terms before you clamber in. When I travelled to Patan with a fellow backpacker, many of the taxis were trying to overcharge us. Finally we found one that said he'd charge us a smaller fare and take us back after an hour. My friend and I were back 5 minutes late and we ended up paying twice the fare. We really ought to have found or negotiated a better and more realistic deal.
Do Not Underestimate The Time
This brings me nicely onto my next point. I didn't do my research on some of the tourist attractions before I travelled to Nepal so I didn't always calculate the time I'd need to enjoy the attractions, or the time it would take to travel to and from my destination.
Consequently, I ended up feeling as though I had missed out on attractions I could have enjoyed. Hopefully, you won't make the same mistake as me!
Don't Fail to Plan
I wish I had a plan when I arrived in Nepal. Then I could have seen more of the beautiful country. Have you ever heard the saying: 'if you fail to plan, you plan to fail'. The same is true when you go to Nepal. The chances are you'll have a limited amount of time in the country, so always do your research about the area you are in, prices and the tourist attractions before heading out.
Prior planning is especially important if you are planning to trek or climb mountains.
Whether you choose to take a group or solo tour, you will need to ensure this is all booked in advance. Be sure to pay for any permits, transport and equipment at least a week or two before your trip is due to begin.
Never Underestimate Altitude
I kind of alluded to this earlier in the blog, but I can't stress this enough. Therefore, my first time backpacking advice to anyone trekking in Nepal is to prepare for the high altitude. Thankfully, most of the mountain routes are naturally quite long between 12 and 21 days, to deal with average heights of more than 5,000 metres. I know from climbing Everest Base Camp that it is no walk in the park, so be prepared.
The worst thing you can do is fail to drink enough water or try to ascend too fast. In its mildest form, altitude sickness can cause headaches and nausea. Almost everyone will be affected by the altitude sickness in some way.
However, severe altitude sickness can cause respiratory problems, confusion and dizziness. If left untreated, it can be fatal. If you feel the symptoms of altitude sickness getting any worse, then the best way to treat it is to descend. Never be tempted to push through if your symptoms become more acute, because you will do so at the expense of your health.
Don't Forget The Etiquette Rules
In Nepal it is considered offensive to touch someone with your left hand because it is traditionally the hand people use to clean themselves after using the toilet. Pointing your feet at someone is considered extremely rude, not just in Nepal but across Asia.
It is also important to ensure your shoulders and legs are covered before entering Buddhist temples in Nepal, otherwise you may be refused entry.
As a little aside, if you want to greet someone in Nepal, you do this by putting your hands together in a praying position and saying 'Namaste'.
Avoid Overpacking
Ok, I must admit I was severely guilty of this one. When I travelled to Nepal, I took everything but the kitchen sink. You may be tempted to do the same – especially if you are going trekking.
This is a mistake. There is literally an abundance of cheap, low-cost equipment and climbing gear in Kathmandu and Pokhara, so it really doesn't make sense to purchase expensive equipment from the West when you can buy or rent them dirt-cheap in Nepal.
Remember, you will have to take this luggage with you wherever you go – especially if you are climbing a mountain for days on end. A heavy, or bulging backpack or suitcase will only add some unnecessary stress to an already challenging journey.
I ended up having to replace my suitcase twice during my 8 month trip across Asia, because my previous one kept breaking due to overpacking. Getting through the airports was also a hassle and I often paid very expensive excess baggage charges. In the end, I gave away and threw away some of the clothes I packed from England just to lighten the load.
So my top tip? Do not overpack.
If you want to get a checklist of things you should pack, take a peek at our list below.
Conclusion
While Nepal has grown increasingly popular among adventurous backpackers over the years,I still think it is underrated. It is not exactly off the beaten track but I don't think it is overloaded with tourists either.
With its charming temples, mouthwatering foods and hidden gems, I actually think Nepal is an enchanting hotspot that should be included on every travel itinerary.
It is also a trekkers paradise, because it has some of the most famous mountains in the world. Even if you don't plan on climbing them, the sheer sight of snowcapped mountains set in the backdrop of greenery is a breathtaking sight.
Getting around Nepal is fairly easy and the best transportation options for you really comes down to whether you prefer convenience, scenery or affordability.
Transport is fairly cheap and you'll find that there are options to suit almost any budget.
There are also tourist activities to suit almost anyone too. I'm a real sucker for ancient history and culture, so the UNESCO World Heritage sites of Patan and the great mountain lakes of Pokhara were the real highlights for me. I also love wildlife, so trekking through the Chitwan jungle was yet another bonus.
But if you've got a special place in your heart for scaling mountains, you'd be pretty remiss to leave Pokhara off of your list. It is naturally built for adventurous climbers and you've got plenty of spectacular mountains to choose from.
Just be sure you don't inadvertently – or deliberately – overstay your visa, and avoid making some of the common mistakes highlighted earlier. In a nutshell, I think the most important first time backpacking advice I can give to the newbie backpacker is to respect local laws and customs but also give yourself plenty of time to travel, research and plan in advance. It'll be worth it in the end, I promise.
Check out my blog 'From Naples to Nepal: A Colourful Introduction to Asia' where you can read more about my previous adventures.
This blog is designed to inspire you and build an online community where you can get all the resources you need to travel. The Backpackers Travel Hub was created to make travelling accessible to everyone - not just the posh people! So drop by and visit the Facebook Group Backpackers Travel Hub. The group contains exclusive tips, and content designed to inspire, motivate and empower you. No sales or annoying gimmicks - just good, solid content. You can also take a peek at the JaninesJourneys Facebook page here. Happy travels!